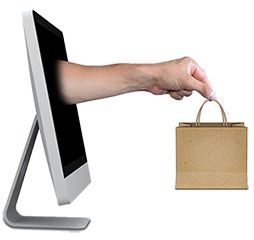 Integrate a shopping cart or catalog of your products into your WordPress website!
Add an additional "storefront" to your business. Sell the products your loyal fans want when they are out of town. A shopping cart can group your business widgets into an easy-to-find catalog.
CeJay Associates has the expertise to guide you.
E-Commerce and Shopping Cart Integration
Selling products online allows you to reach a wider audience and new customer "pockets". Nearly 3/4 of Americans shop online on a regular basis.  If you're not selling products online, you are missing out on a lot of sales!
If you don't want to sell online, but need an effective catalog database to store and sort your items, shopping cart software offers a great solution.
CeJay Associates will help you develop a website that meets your needs, your budget, and is easy to use for your customers.
In WordPress, we can add modules that preform almost any shopping experience; from shipping price variations to payment methods, cross-sells to up-sells, discounts and featured products.
Whether you are selling physical or virtual products, let CeJay help get you online and sell online!
Internet Storefront with Full Merchant Account
An e-commerce website with full merchant service account is an excellent option for e-commerce sites with many products and/or customers.
Processing and transactions fees are typically less, but the website needs to be secure.  You will be managing customers' personal information.
CeJay Associates will guide you in choosing and setting up:
Shopping Cart software

Cart layout
Set- up for product variances, sales tax, shipping costs, invoicing, error management, account processes
Insert products into database
Email accounts setup

Hosting to support Secure transactions
Digital Certificate
We will also help you choose and integrate:
Merchant Service Account and/or Online Payment Processor
Shipping provider with prices that are automatically calculated based on the customers purchases
Internet Storefront with an online payment method such as PayPal:
An e-commerce website integrated with an online payment method such as PayPal, Square, Google Wallet, and iPay is an economic solution for storefronts with few products.
Processing and transaction fees are typically higher than a Merchant Service Account, but the website requirements, such as a  digital certificate are typically less because you won't be managing your clients' personal information.
We Can Help You Develop a Website That WORKS for Your Business!