Building your Company Website
Choosing a Domain Name(s)
A domain name, or "URL", is the address for your website on the Internet. It should be unique and distinct from other business names and websites. Most of the time, your business name is distinctive enough, but if your business name used as a domain address is already "taken" by someone else, usually something similar can be developed.
Your domain name(s) will be registered, for which you will renew the registration periodically (yearly, or in blocks of years). The "extension" is the .com, .net, .org, etc.  Today there are MANY choices at many different registration fees. .Com is still the most common – grab that if you can. Beyond that, brevity is still paramount; making it easier for clients to remember. Also, your domain name should be 'keyword rich' – since the search engines weigh what your domain says and how it coordinates to your site's content.
Any extra domains that you register can be "pointed" to your primary domain, which goes to your website home page.
Let CeJay Help You…
We can use your business name & ideas to research the domain field to come up with one that you like. Checking the name against all the suffixes & similar names or anacronyms (abbreviation so old or familiar that no one remembers what its letters stand for) in the US & the world, we will register the one(s) you want & 'point' them to your website.
Frequently, when you find a good domain name, it is a good idea to buy the other extensions with the same name, to avoid other companies using your name. In other words, we own the names CeJayAssoc.com, CeJayAssoc.net, CeJay.com, CeJay.net.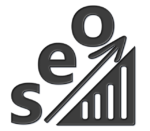 Hosting for Your Website
Now that you have an Internet address, you will need to rent space on a server to keep your pages/files. There are many companies that will rent you space for a monthly or yearly fee, and all with a wide variety of prices & additional services. They provide the "machine" (a server) that puts your pages on the World Wide Web. You will need to pay the periodic fee to keep your site on the Internet.
One of these extra services is company email. Your company can have email addresses that come from your company name: "JoeSmith@YourCompany.com". This is more professional looking.
What CeJay Can Do for You…
Let CeJay Associates, LLC research the best hosting for your website & email needs.
If you purchase more than one domain name, only the "primary" one is used for the hosting package. The others can be "pointed to" your website. The public then has more than one address to reach your website. There are search engine advantages to this.
CeJay Associates will offer expert advice on the best domain and hosting setup for your website.
Your Website can Serve You in a Variety of Ways
In an advertising capacity for your products, services, hours of business, and contact information…. 24 hours, 7 days a week. Now THAT'S an in-expensive salesperson!
Order forms for easy Customer Ordering
Online credit card payment for your Customers
Offering pages that serve your industry (ie. info on new products that you handle)
Share design specs and pictures with customers
Offering pages that serve your employees (ie. company-wide seminars description and sign-up list)
Your readers can communicate with you from pages with Forms (ie. Contact Us, Feedback)
Include links to companies whose products you handle (and perhaps they will also include a link from their website to yours. Good for SEO!)
Placing your URL [web address] on your business cards, letterhead, and your printed advertising also increases your website readership.
Best of all, a website does not have to be expensive!
Domain name, hosting and full design work compare in price to having a brochure designed and printed or an ad in a telephone directory.
CeJay Associates can help you maximize your Internet presence to promote your business!